Vocal, stage and performance coach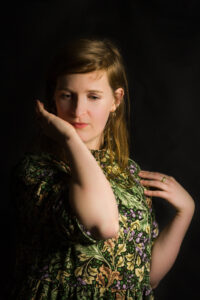 Dutch lyric coloratura soprano Elvire Beekhuizen graduated from the Royal Conservatory in The Hague in 2012. She was a prize winner of the Prinses Christina Competition, semi-finalist in the Belvedere competition and finalist in the Gebrüder Graun Wettbewerb. Since then she has been increasingly in demand in the opera and oratorio scene for the incomparable agility and flexibility of her voice and unique stage personality. Her operatic experience includes some of the most demanding roles such as Morgana in Handel's Alcina, Pamina in Mozart's Die Zauberflöte, Amaranta in Haydn's La Fedelta Premiata, Erasto in Lotti's Giove in Argo, Emmeline and Philidel in Purcell's King Arthur and Princesse Fantasia in Offenbach's Le Voyage dans La Lune.
Elvire is regularly invited to perform with Baroque ensembles and opera companies in Europe such as Apollo Ensemble, Dutch National Opera, Opera2day, BarokOpera Amsterdam, Lausitzer Barockensemble and Ribattuta Musica. With the Apollo Ensemble she has recorded several well-known repertoire pieces, such as the John's Passion, the Matthew Passion and Messiah, but also lesser known pieces such as the different version of the Brockes Passion, set on music by Handel and Telemann amongst others. She has worked with some of the best conductors and stage directors such as José Darío Innella, David Rabinovich, Andreas Küppers, Nynke van den Bergh, Vaughan Schlepp, Frédérique Chauvet and Sybrand van der Werf.
Elvire has a big curiosity towards the people around her and she is enthusiastic about artistic and personal development in general. At the Handel Opera Academy she will be around as a vocal coach, stage coach and a confidant if needed.